Welcome to this month's installment of the Real Estate Diaries: Month-over-Month Report.
As my clients and those who have subscribed to my monthly newsletters can attest, I enjoy providing both general market insights of different area's in the Greater Toronto Area (GTA), and a relative view of sales for the same area's.
My month-over-month updates were developed because I personally was interested in observing whether or not local or global events were large enough to impact the sale price of properties in an immediate way, without waiting a full-year to see the year-over-year data.
When this type of statistic becomes interesting is with global events, such as COVID-19.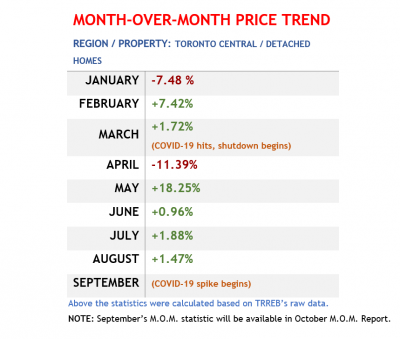 In January progressing to the beginning of March, the entire real estate market was considered, very hot.
Taking detached homes as our example, the trend observed with month-over-month price comparison supports this notion. When COVID-19 caused a shutdown province wide the second week of March 2020, the impact came swift – with a drop in sale price of over 11%; there was also an overall decrease in listings of about 60%. However, this particular segment of the market rebounded very quickly.
As this article is being published, Ontario is starting to see a resurgence of COVID-19.
It is now November, and Phase-2 of COVID-19 is clearly thriving.
Peel and Toronto are in full lock-down for at least 28-days (Oct.'20).  For a full list of what's open and closed, click on the following link:  CBC News Article: What is open and closed
Looking back at November's month-over-month statistics, the biggest gains and losses in "sold-price", were the following:
Detached Homes
Burlington: +9.18%; (avg. sold price: $1,298,161)
Vaughan: -5.10%; (avg. sold price: $1,447,699)
Semi-detached Homes
Whitby: +11.40%; (avg. sold price: $740,150)
Vaughan: -17.05%; (avg. sold price: $937,596)
Condominium-Apartment Style
Vaughan: +9.59%; (avg. sold price: $646,801)
Pickering: -7.04%; (avg. sold price: $494,778)
Stay tuned for the update on how the market will react!
If you would like to receive my monthly reports, please click on the link below and subscribe to the preferred emails.